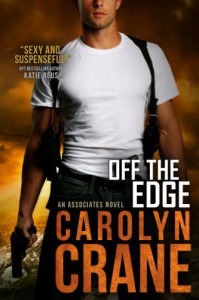 My review and an extended sample of the audiobook are posted at Hotlistens.com.
I love the stories in this series, which I've listened to out of order. I listened book three last year and enjoyed it. This series consists of a guy who is deep undercover. It is hard to tell if he is a good guy or a bad one. I think the truth lies somewhere in the middle. The heroine for Off the Edge, Laney, is on the run and hiding for a very dangerous man. She is a little naive, but not too bad. There are a few things I don't like about this series. There are phrases that are repeated too frequently. Also, each character goes by so many different names, actual first name, actual last name, undercover first name, undercover last name and nicknames. It was a little hard to keep up who we are talking about. Neither of these prevented me from enjoying the story overall.
Narration
Narration by Romy Nordlinger while not my favorite, wasn't bad. I think it was mostly the non-dialogue that I didn't like. When she was voicing the characters, I didn't mind the voices used.